The New Mid-Engine Corvette: 2020 C8 Corvette

When discussing sports cars, no vehicle comes to mind more than the iconic Chevrolet Corvette. This new mid-engine Corvette will soon be making its arrival, and it has a brand new look for the latest model year. Why will the 2020 Corvette be so popular among Escondido and El Cajon drivers? Jimmie Johnson's Kearny Mesa Chevrolet is here to tell you about the C8 Corvette interior, performance features, and its sophisticated new silhouette.
---
---
Special Features of the C8 Corvette Interior
With a lowered instrument panel and steering wheel, the C8 Corvette interior has a more intuitive design than ever before. This is thanks to the fact that the engine is now located in the rear of the vehicle. Controls were placed with the driver in mind for a convenient commute. The C8 Corvette lets you choose from three different seating choices. Which type of seat is your preference?
GT1 – These seats come standard for the 1LT and 2LT trim levels. Mulan leather means a luxurious and comfortable drive anywhere that you go.
GT2 – GT2 seats are available for the 2LT trim, but they come standard on the 3LT. GT2 seats feature a carbon-fiber trim plus a seatback halo. Add a touch of class with Napa leather.
Competition Sport – Love racing? If so, you will want these bolstered seats. Performance textile has been placed in areas that endure a lot of wear and tear so you don't have to worry about these seats for quite some time.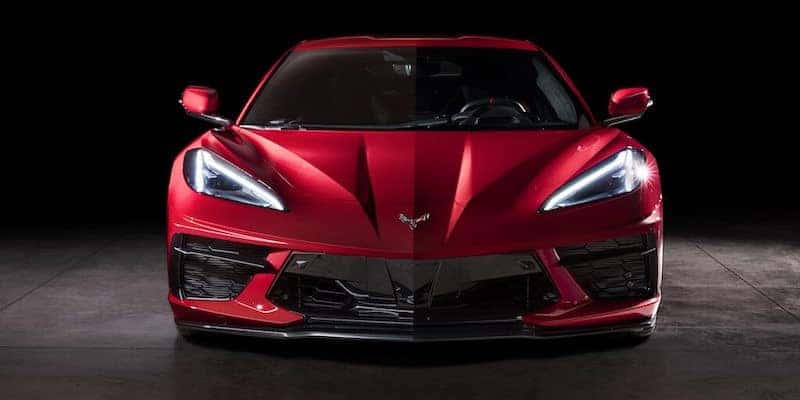 Adrenaline-Pumping Performance
The new Corvette 2020 edition is a beast with the all-new 6.2L LT2 V8. Its lower stance means better handling on the street or on the track. The standard dry-sump system elevates performance when g-forces are high. Continuously Variable Valve Timing is another feature that takes the performance of the 2020 Corvette C8 to the next level.
Innovative Design Elements
The 2020 C8 Corvette is sure to make a name for itself with its stunning good looks. Because of its mid-engine design, visibility and responsiveness have seen an improvement. There is also a front cargo area that provides you with ample room for an airline-size overhead bag. You find additional space in the trunk, so bringing along your belongings is hassle-free. Let's take a look at the wheels. Chevy offers the 19-inch front tires and 20-inch rear tires in two styles inside of two spoke designs.
Learn More with Jimmie Johnson's Kearny Mesa Chevrolet
Although the C8 Corvette price has not yet been disclosed, Jimmie Johnson's Kearny Mesa Chevrolet would be glad to share what we know about the 2020 Corvette C8 with Chula Vista-area drivers. If you have any questions, reach out to us at your convenience. Until the C8 Corvette has arrived, you can explore the new Corvette for sale at our dealership or you can reserve your C8 Corvette.